AMPLIFIED BIBLE

The Amplified Bible, Expanded Edition, Softcover
By Zondervan Corp.
The Amplified Bible captures the full meaning behind the original Greek and Hebrew. It is based on the philosophy that a given word may have a multitude of meanings. This translation's purpose is to reveal any clarifying meanings that may be concealed by traditional translation methods. A unique system of punctuation, italics, references, and synonyms to unlock subtle shades of meaning as found in the original languages is used inside to 

get the full meaning of the text. Black letter edition, concordance, study notes, footnotes, historical background, archaelogical notes, book introductions, cross references, double column format, and bibliography. 
---
ESV Reformation Study Bible Hardcover
Edited by R.C. Sproul / P & R Publishing
The new English Standard Version translation is founded on the belief that the words of the Bible are the very words of God. Setting itself apart from other translations by sacrificing neither accuracy nor readability, the ESV is an "essentially literal" translation that seeks to duplicate the original texts while taking into account the differences between modern English and the original languages.
Relying on the work of more than 50 Bible scholars, as well as the input of a 60-member, multi-denominational Advisory Council, the translations committee chaired by J.I. Packer realized its goals of word-for-word precision and accuracy, literary excellence and readability, and depth of meaning. Written in language beautiful enough to be used for public reading, clear enough for preaching and devotions, and trustworthy enough for academic study, the ESV sets a new standard—and is truly a Bible for all people.
Produced by a team of more than 50 scholars for Ligonier Ministries, The ESV Reformation Study Bible is ideal for Calvinists 

who are eager to study the great themes and doctrines of Scripture. It is packed with the kinds of details pastors, educators, and students relish in order to grow in grace and knowledge. 2208 pages, hardcover. P & R.
---
ESV Classic Reference Bible, Hardcover
This Classic Reference 

Edition of the ESV Features:
Center-Column Cross References (more than 76,000 entries)
ESV Concordance (more than 14,500 references)
Book Introductions
Words of Christ in red
Full Color Maps – including Jesus' Life and Ministry.
---

The Listener's MP3 Complete ESV Bible – Audio Bible on MP3 CD-ROM
By Narrated by Max McLean / The Listener's Bible Company
Max McLean brings his compelling voice and artistic narrative skills to the ESV Bible. This Gold Medallion winning new translation combines a word-for-word translation approach with a literary beauty that is perfect for the oral expression of God's Word. "The Word of God is powerful: With Max McLean that power is unleashed by his reading." Dr. R.C. Sproul, Ligonier Ministries. The Listener's Bible on MP3 will provide a new generation with more affordable and convenient for

mat to experience the Word of God.MP3 will play on MP3 enabled CD players and computers. It can also be downloaded onto iPods and MP3 capable PDAs and PDA mobile phones. 4 MP3 CDs in a deluxe carrying case. 75 hours.  TOP 
---
INTERNATIONAL CHILDREN'S BIBLE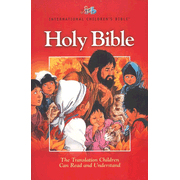 ICB Big Red Bible Revised Softcover
By Thomas Nelson
The International Children's Bible is the Bible children can read and understand. Most children don't understand adult words like "atonement," "redeem," or "oracle". Dozens of such difficult words are commonly found in the modern versions of the Bible. In this proven translation of the complete Bible, the words have been carefully selected just for children. Now available in a special economy edition! Written at a third-grade reading level.
Features
Difficult and abstract expressions are replaced by easier words
Children's dictionary/index, with more than 200 entries, explains difficult words and phrases
Simplified footnotes explain Bible names, customs, and phrases
"Where Do I Find It" guide
"What God Promises About…" guide
"Memory Verses for My Life" list
Blank, lined pages for My Favorite Things, Prayer Requests, and Notes
Colorful maps show key cities and lands
Presentation, Church Record, and Family History pages
---
The New Jerusalem Bible, Standard Edition, Hardcover
By Random House, Inc
(PUBDoubleday)Based on the work of L'Ecole Biblique in Jerusalem, this monumental revision, first published in 1985, has been compared more closely to the original Greek and Hebrew, and at the same time strives to be faithful to modern expressions in English. "

The best of modern translations,"—Living Church. 1406 pages, hardcover.
---
KJV Holy Bible, Economy Edition
By Hendrickson Publishers
By Zondervan Corp.
This classic edition of the KJV Reference Bible includesintroductions, a comprehensive reference system, full-colormaps, and extensive study helps. The Gold edition comes in bonded leather, and has over 45,000 center column references. Features Include:-Words of Christ in red letter.-Center column reference system.-Concordance.-Book intr

oductions.-Extensive study helps.-4 Page presentation section.-8 Pages of full color maps.-Double column format.-Ribbon Marker-7.2 point type.
---
The Message New Testament: Mass Market
By Eugene H. Peterson / Nav Press
An evangelism-friendly version of Peterson's bestseller! Portable and priced right for distributing to the unsaved, this paraphrase presents the New Testament in a conversational language that everybody can understand. If the Bible were written today, this is what it would sound like. Includes book introductions. 544 pages, 4 1/4″ x 7″ x 3/4″ softcover from NavPress.The Mass Market Paperback is the most inexpensive of all the bind

ings. The size of these editions is smaller than your standard book and the pages are glued to the heavy paper binding.
---

New American Bible: New Testament – audiobook on CD
By Oasis Audio Llc

---
NAS New Inductive Study Bible, Hardcover, Thumb-indexed
By Kay Arthur / Harvest House Publishers
The New Inductive Study Bible is designed to encourage people to study the Bible for themselves, rather than relying on the interpretation of commentaries. It presents an inductive method of study and Bible marking which teaches people how to understand and apply Scripture to their own lives. Through an effective system of Bible marking, the Bible itself becomes a personal record of insight and growth. This is the Updated NASB.
Special features:
Step-by-step instruction in the acclaimed "inductive study method"
Wide margins for note-taking
Concordance
24 pages of maps and charts
Single column format, with side column cross-references
Black letter
---
NAS Zondervan Study Bible, Hardcover
By Zondervan Corp.
Today's most literal Bible translation has been updated and combined with world-class study notes to become a premier study Bible. This edition is the most exhaustive, up to-date study Bible available in the NASB. It is a completeresource library at your fingertips.Features Include:-The most comprehensive, up to date NASB study Bible available, combining the best in biblical scholarship with today's most literal English translation.-Over 20,000 in text notes adapted from the best-sellingNIV Study Bible.-Book introductions and outlines; author information,dates; interpretation helps; themes; and archaeologicalhistorical, and literary information.-Center column cross reference system.-80 in text maps and charts.-Concordance.-Subject and study

 note indexes.-23 pages of full color maps and timelines.-8 page presentation section.-23 pages of full color maps and timelines.-Double column format.-8.9 point type. 
---
NEW INTERNATIONAL READERS' VERSION
NIrV Kids Devotional Bible Hardcover
By Zondervan Corp.
Your kids ages 6 to 10 can have their own devotional Bible one they can actually read and understand! The NIRV translation is based on the NIV but with easier words and shorter sentences (third grade reading level). Short, creative devotions with easy to read NIrV text will enable kids to understand what they are reading. Pages are filled with youthful, attractive two color graphics and illustrations. Simple, fun to do weekend activities that focus on

 nature topics bring to life important lessons about God's creation. Also included are Book Introductions,a presentation page, and a dictionary that explains difficult words.
---

NIrV Kids' Study Bible Revised, softcover
By Zondervan Corp.
This Bible uses the complete text of the New International Reader's Version (NIrV-the NIV for kids!) written at a third grade reading level. The easy-to-read, single-column format makes this a perfect first study Bible for young readers. A new interior design, updated study helps, and twenty-four-color illustrations will keep kids ages six to ten engaged in a time of personal Bible study.
Features include:
check it Out: line art sketches and descriptions of what life was like in Bible times
Brain Game: questions that help kids remember Bible themes
Soak it Up: key verses are highlighted for kids to memorize
Single-column format
Multi-color interior
---

NIV Pew Bible–hardcover, navy blue
By Zondervan Corp.
This NIV Ministry/Pew Bible is a high quality Bible that isavailable at a very economical price. It comes complete with subject headings and translator's notes. The Bible is prin

ted on high-quality Bible paper, inside a durable hardcover binding with gold stamping. Set up in a doublecolumn format, with 8 point type.
---

NIV Study Bible Revised Hardcover
By Bible / Zondervan Corp.
Over six million have been sold. Now, the original team of scholars have thoroughly updated the world's favorite study Bible. The top-selling NIV translation is still its foundation. The list of refinements and additions puts the most current conservative Bible scholarship–everything from commentary to character study and archeology–at your fingertips:
Over 20,000 revised and improved study notes (800 new)
Expanded book introductions and outlines
New symbols that make important information easy to find
New and revised in-text maps, charts, diagrams and illustrations right where you want them
Thirteen pages of full-color maps
Center column reference
Topically based Subject Index
Comprehensive Note Index
NIV Concordance has over 35,000 entries
Words of Christ in red
Hardcover Bible measures 9 1/4″ x 6 1/4″. 
---

The NKJV Holy Bible
By Thomas Nelson / W
Your neighbor. The waitress at the diner. The homeless man you see downtown. Your world is full of people who need to receive God's Word—whose life will you impact with this givea

way edition? Complete NKJV text * Reading schedule * Plan of salvation * Top-of-page subject headings * Size: 5.5″ x 8.25″ x 1″ * 500 pages, softcover from Nelson
---

NKJV Here's Hope New Testament Paperback
By Broadman / Holman
Our incredibly low price makes this New Testament the economical choice for your evangelism and outreach programs! Stock up now so you'll always have them available to give away.Verses of hope and salvation are highlighted * "Where to Find It" index * 

Size: 5.5″ x 7.5″ x .5″ * 259 pages, softcover from Broadman & Holman
---

NRSV Bible with the Apocrypha, paperback edition
By Hendrickson Publishers

---

Phillips' New Testament in Modern English, Softcover
By J.B. Phillips / Simon & Schuster Trade Sales
With millions of copies in print since its first publication, J.B. Phillips' The New Testament in Modern English, the first major 20th Century interpretation of the New Testament—recently updated—remains a fresh and accurate account of the greatest story ever told. This is the authoritative, classic translation from the latest and 

best Greek text published by the United Bible Societies, recognized by many scholars of all denominations as the best source available.   
---

The Jewish Study Bible
By Oxford University Press
An incomparable achievement! Now the precise and elegant Tanakh English translation of the Hebrew Bible is enhanced by a host of Judaic-perspective study helps.Parallel interpretive commentary d

rawn from the full spectrum of Orthodox, Conservative, and Reform Jewish scholarship * Twenty-one informative essays * Section and book introductions * Color maps * Size: 6.5″ x 9″ x 1.75″ * 2304 pages, hardcover from Oxford University 
---

Tanakh: The Holy Scriptures: Standard Edition, Hardcover
By Jewish Publication Society / Jewish Pub Society
This modern English translation of the Hebrew Bible is unrivaled for its precise and elegant rendering of the 10th-century Masoretic text. Structured on the traditional Jewish divisions of Scripture, (Torah, Prophets, and Sacred Writings), it reflects the best of contemporary Jewish biblical and semitic studies. Savor it to better understand the richne

ss and nuances of the original Hebrew! 1,624 pages, beautiful blue hardcover with gold stamping and dust jacket, 6" x 9", from the Jewish Publication Society.  TOP 
---

Tanakh: The Holy Scriptures: Student Edition, Paperback
By Tanakh / Jewish Pub Society
The Tanakh or Jewish Bible (for Christians, the "Old Testament") is an entirely original translation of the Holy Scriptures into contemporary English, based on the Masoretic text. It is the culmination of three decades of collaboration by academic scholars and rabbis r

epresenting the three largest branches of organized Judaism in America. The translators made use of the entire range of biblical interpretation, ancient and modern, Jewish and non-Jewish, as well as the latest findings in linguistics and archaeology. 
---
TODAY'S NEW INTERNATIONAL VERSION

TNIV Church Bible
By Zondervan Corp.
Everybody in your congregation will be on the same page when you use this economical pew edition of the exciting TNIV translation.Readable design, reliable contents * Same pagination as other TNIV text Bibles andMedia Shout Bible projection software * Size: 5.5″ x 8.5″ * 11

84 pages, hardcover from Zondervan