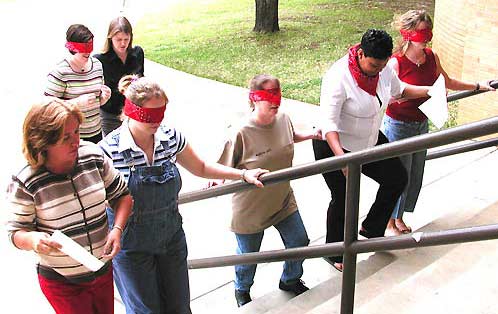 The babe in Christ must for a time
be led by trusted hand to climb
life's rocky cliffs and to believe
and blindly step 'til he receives
his soul's first glimpse of destiny.

A stumbler scarcely turned from death,
perceives no smell of God's sweet breath.
No heavenly tune his soul can sing,
but all God's righteous orders bring
are lifeless rules of piety.

The older travelers pause to say,
"For you to know and love the day,
this darkness must be yours awhile."
They nod their heads with knowing smile,
yet all their words seem vanity.

In faith, which none would dare deny,
the babe exclaims, "I know not why,
nor where, nor when, nor how,
but Who I've known and loved, so now
I'll yield to His wise sovereignty."

Now an older pilgrim hikes the path.
He finds one turned to grace from wrath.
He calls with reassuring voice,
"Blind eyes we share, and so, rejoice!
In darkness, learn fidelity."

Do questions come quickly and answers come slow,
and the "yes" you expected turns out to be "no"?
Take courage, dear Christian, give thanks and believe.
It is Jesus, the Light of the world, you receive.
It is by His hand that all blind must be led.
It is He who chooses the path that we tread.
It will be by His power and healing we see
When our journey ends in eternity.