Song of the Prodigal
---
Tattered shirt on my back,
and no shoes for my feet,
And these hulls for the pigs are looking so good to eat.
All my friends walked away when push came to shove,
And Iím far from my fatherís house,
but not from his love.

I think I will arise and go back home.
Iíll admit I was wrong for the things Iíve done.
Iíll say, ďI donít deserve to be called your son.
Father, you have many slaves, just make me one."

So I packed up my bag; it didnít take long.
And I rehearsed my speech íbout how Iíd been wrong.
And I walked up the road down which I had come.
It once seemed oh so short,
but now it was long.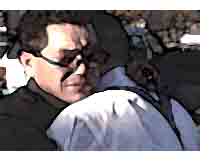 Whoís that up the road? Who is it I see?
Could it be my dad? Is he running to me?
Are these his arms giving me an embrace?
And are these tears,
tears of joy running down his face?


Son: Father, I have sinned.
Father: Go and kill the fat calf.
íGainst heaven and earth.
I feel like a laugh.
And I brought great pain
Here, put on this ring.
To those who gave me birth.
Iím ready to sing.
I donít think you heard a single word I said.
But son, you are alive, we thought you were dead.

Cause you're the prodigal come home,
And you're been too long away.
You're the prodigal come home,
But now you're here to stay.
Hurray! Hurray! Hurray!
The prodigal's come home!
Yes, the prodigal's come home!

If you know youíve been a wayward prodigal.
And you know what itís like to suffer a fall.
Take the road back home;
itís your only choice.
Soon youíll see your fatherís face
and hear his voice.