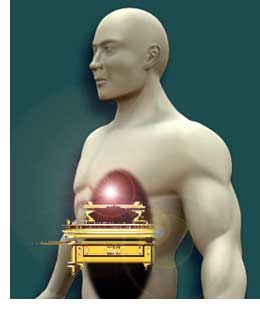 At an annual conference I met the Lord, and we became friends. "When will I see you again?" He asked.
I yawned, "Oh, I don't know. Are you ever out my way?"
"Certainly," He said. "All the time. I have a temple there."
"There you go, then," I said. "I'm sure I'll bump into you."
A few weeks later I saw Him at church.
"Looks a little plain to be a temple," I remarked.
"You don't quite understand," He replied. "My temple only meets here." Then I understood: His people are His temple (1 Cor. 3:16). He smiled. "You know, our friendship would really grow if I could see you more often than once in a while."
I started attending the worship assemblies and Bible classes regularly. As my Friend and I met two or three times a week, our relationship certainly did get closer, becoming more than just common interests and warm feelings. I sensed from Him an unconditional love I'd never known before.
One Sunday He told me, "You know, really close friends see each other more often than two or three times a week. Would you like to know about my other temple?" That's when I learned that the Christian's body is a temple in which the Spirit of Christ dwells (1 Cor. 6:19; Rom. 8:9). By then I was responding love for love. Leaving my old life behind, I became new, washed clean, sanctified. The new, completed temple was filled with His glory and the abiding presence of His Spirit.
Now we're together every moment. Often the temple must be cleansed again, and sometimes the clean-up is painful. I somehow forget that I'm His temple. But then I think of the price He paid for me, the cleansing I received, and His ongoing love.
When and where do you meet my Friend? At a yearly conference? In the local weekly assembly? Or day by day and moment by moment in the temple of your body? He wants to live there, now and always. It's up to you.