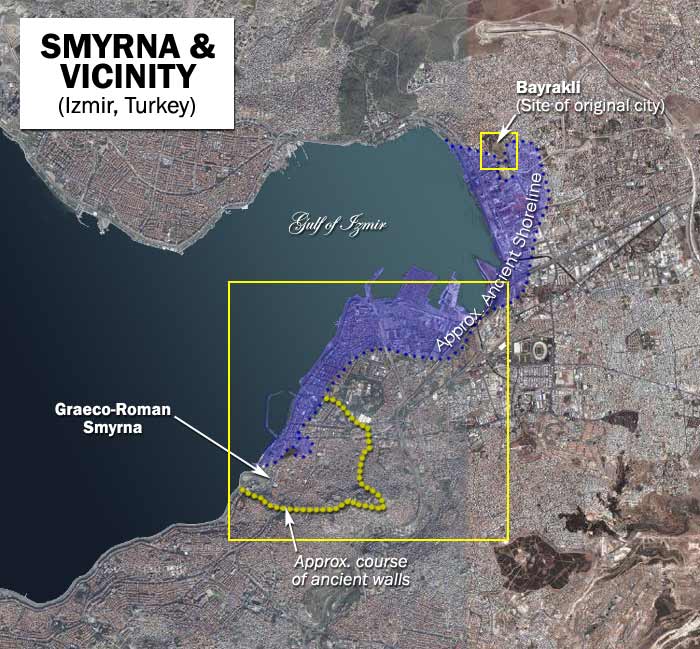 Click within yellow rectangles for close-ups.
View site of original Smyrna
View site of Graeco-Roman Smyrna
Zoom out to Asia Minor satellite view
Zoom way out to "Lands of the Eastern Mediterranean"

The sites of ancient Smyrna are covered over by the modern metropolis of Izmir (2007 population: 3.7 million). The original site was at the end of the gulf at a location now known as Bayrakli. This early city resisted the Lydian conquerors and suffered a complete destruction around 600 BCE. According to legend, Alexander rebuilt Smyrna, which would have been around 340 BCE. The new city, located southwest of the old one, lasted for many centuries.
Some time in the latter half of the first century CE, a Christian community arose in Smyrna. This may have been during Paul's three-year stay at nearby Ephesus (about 53-55 CE, see Acts 19:10), or a little later. By the time the Book of Revelation was written, its congregation was among the seven churches the Spirit addressed in that epistle (Revelation 1:11).
In the section specifically addressed to Smyrna, (Revelation 2:8-11), Christ has nothing but praise for the congregation. He is aware of their troubles, that they are both financially destitute and suffer persecution from the unbelieving Jews. He exhorts them to focus on their spiritual riches and to face the terrible trials looming ahead. He promises them that if they will stay loyal, even through death, He will reward them with the overcomer's crown of life. The danger for a poor church and for a church taking one hit after another from a hostile community is to become discouraged or intimidated. Christians in such churches could easily think their sacrifices don't count for much or their risk-taking has no value. But Jesus sees what's going on. To Him it counts. He coaches us to endure to the end, where awaits our prize.
Only a few years later, Polycarp, a bishop of Smyrna, suffered martyrdom. His testimony at the stake inspires virtually all Christians who learn of it: "For eighty-six years I have served Him, and not once has He hurt me. How then am I able to blaspheme my King who has saved me?" (Martyrdom of Polycarp 9.3, my translation).
Because of silting deposits from several rivers in the area, the coastline has extended beyond its ancient limits, so that neither of the ancient cities is connected to the sea any longer. Izmir has two excellent archaeological museums.
For more on the ancient city, go to the other views.
Want to go deeper?
The following are recommended to help you look deeper into the history and archaeology of Smyrna.
Cecil John Cadoux. Ancient Smyrna: A History of the City from the Earliest Times to 324 A.D. Oxford: Basil Blackwell, 1938. – Cadoux was born in Smyrna and then went on to become a professor at Oxford. Despite its age, this is one of the most detailed treatments of Smyrna available, though it is currently both out of print and unavailable through Amazon. You may be able to find it at a large library or seminary library.
Recommended for purchase:
Steve Singleton – Overcoming: A Study Guide for the Book of Revelation (DeeperStudy.com, 2004) – Provides the historical background of Smyrna and the other six cities of the Apocalypse, as well as a thorough introduction and brief commentary on the Apocalypse. Get digital edition and save almost 50%!
Steve Singleton – Seven Letters to the Church (2006) – E-book drawn from Overcoming (see above), with additional material. Illustrated commentary on the Letters to the Seven Churches of Asia, as found in Revelation chapters 2 and 3. Includes history, culture, and archaeology of the churches, plus a summary of relevance for today as well as verse by verse comments. Illustrated with drawings & color photos, including satellite images of Ephesus, Pergamum, and Laodicea.
Claude E. Fant & Mitchell G. Reddish – A Guide to Biblical Sites in Greece and Turkey (Oxford, 2003). – Nearly two-thirds of the New Testament, including all the letters of Paul, most of Acts, and the Book of Revelation, are set in either Turkey or Greece. This book serves as a historical, biblical, and archaeological guide to most of these biblical sites. View excerpt
CD-ROM: Turkey: Pictorial Library of Bible Lands (2004) – Series is most complete collection of high resolution Bible Land images available... perfect for worship, class study, or personal Bible study! Highest quality available. This CD features more than 700 high-resolution digitized images, including: Cities of Paul's Journeys (Antioch on the Orontes, Seleucia, Tarsus, Pisidian Antioch, Lystra and Derbe, Colossae, Hierapolis, Assos, Alexandria Troas, and Miletus); seven churches of Revelation: Ephesus, Smyrna, Pergamum, Thyatira, Sardis, Philadelphia, and Laodicea; plus Istanbul, Cappadocia, Priene, and Troy.
George Bean – Aegean Turkey: An Archaeological Guide (John Murray, 1989).
J. M. Cook – Old Smyrna Excavations: The Temples of Athena (David Brown, 1998).
Ekrem Akurgal – Ancient Civilizations and Ruins of Turkey: From Prehistoric Times Until the End of the Roman Empire (Haset Kirabevi, 1985). | cheaper, earlier edition – Akurgal was the archaeologist in charge of the excavation of the original Smyrna at Bayrakli.
Online resources:
Christine Eslik, PhD – Recent and current excavations
William M. Ramsay – "Smyrna: City of Life" | "The Letter to the Church in Smyrna" 251-267 and 268-280, respectively, from Letters to the Seven Churches & Their Place in the Plan of the Apocalypse, 2nd ed. (London: Hodder & Stoughton, 1906).
The Martyrdom of Polycarp – Eng. transl. by Cyril C. Richardson of a document almost contemporary with the event it narrates.
Burak Sansal. [History of] Izmir – Sansal is a Turkish professional tour guide.
HOME Newsletter Shallows Depths Studylinks DS Bookstore
About DS Contact DS

© 2008 DeeperStudy.com | Steve Singleton, All Rights Reserved | Smyrna Izmir Satellite Image