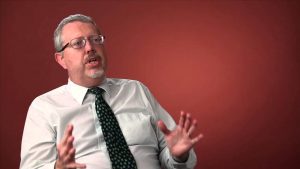 Craig L. Blomberg (1955- ) completed his PhD in New Testament, specializing in the parables and the writings of Luke-Acts, at Aberdeen University, Scotland. He received the MA from Trinity Evangelical Divinity School, and a BA from Augustana College. Before joining the faculty of Denver Seminary, he taught at Palm Beach Atlantic College and for an academic year was a research fellow in Cambridge, England.
Blomberg stands in the conservative evangelical tradition, but has been known for his wide interaction with mainstream scholarship and his willingness to challenge the evangelical status quo. For example, he has been outspoken in chiding evangelicals for their blanket condemnation of Liberation Theology, he has often been critical of American evangelical scholarship, and he fostered a dialogue with Mormon professor Stephen E. Robinson of BYU, which resulted in the book How Wide the Divide? An Evangelical and a Mormon in Conversation. He was also one of several interviewed for The Case for Christ, a popular book by Lee Strobel.
Blomberg has written on a diverse range of issues including wealth and poverty, hermeneutics, and women in ministry. However, his academic work has tended to focus on the Historical Jesus and Gospels research. — Steve
The Historical Reliability of the New Testament: The Challenge to Evangelical Christian Beliefs
(2016)
Can We Still Believe the Bible: An Evangelical Engagement with Contemporary Questions
(2014)
Interpreting the Parables
(2nd expanded ed., 2012)
Biblical Hermeneutics: Five Views
(2012)
– Blomberg's is the Historical-Critical/Grammatical View.
A Handbook of New Testament Exegesis
with Jenifer Foutz Markley (2010)
James: Zondervan Exegetical Commentary on the New Testament
(2008)
Historical Reliability of the Gospels
(2nd ed., 2008)
Contagious Holiness: Jesus' Meals with Sinners
(2005)
Introduction to Biblical Interpretation
– co-author with W. W. Klein and R. L. Hubbard Jr. (rev. and updated, 2004)
Making Sense of the New Testament
(2004)
Preaching the Parables
(2004)
Neither Poverty Nor Riches: A Biblical Theology of Possessions
(2001)
How Wide the Divide? A Mormon and An Evangelical in Conversation
 – co-author with Stephen E. Robinson (1997)
1 Corinthians
(NIV Application Commentary, 1995)
Matthew: New American Commentary
(1992)
From Amazon.com:
Heart, Soul, and Money: A Christian View of Possessions (2007)
From Pentecost to Patmos: An Introduction to Acts through Revelation (2006)
The Historical Reliability of John's Gospel: Issues and Commentary (2002)
Jesus and the Gospels: An Introduction and Survey (2009)


Interpreting the Parables (2012)
The Historical Reliability of the Gospels (2007)
Return to Recommended Authors
©2016 DeeperStudy.com | Steve Singleton, All Rights Reserved