by Steve Singleton (1998-02) $4.95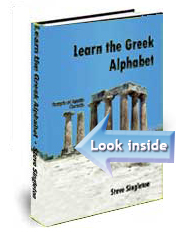 The strangeness of the Greek alphabet is the first and largest hurdle to learning New Testament Greek. Now there is a fun and easy way to leap this hurdle: by singing! Structured after a popular text for introducing the Hebrew alphabet, this text has been used successful with many classes of beginning students of New Testament Greek. Includes both Erasmian and modern pronunciation. Familiar scriptures set to tunes help you practice your Greek by hearing, while associating the sights and sounds of each of the letters of the Greek alphabet, along with the seven vowel pairs (called "diphthongs"). Also includes a unique flowchart for accenting nouns, adjectives, and verbs correctly.
How do we deliver our e-books? As soon as your payment clears with PayPal, you will receive a link for your Instant Download! Make sure you do the download within 24 hours of when you receive the link. By downloading, you are agreeing not to share your copy with anyone. At these prices, they can buy their own! Because all of our ebooks are in Adobe Acrobat format, you will need the Acrobat Reader, available free from Adobe.