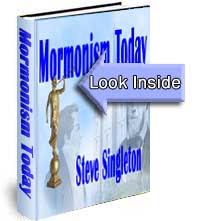 by Steve Singleton (2007-004) $5.95
Here is a brief but careful examination of the spiritual descendants of Joseph Smith, Jr., the self-proclaimed latter-day prophet. This 40-page, illustrated ebook provides detailed information about the splintered fellowship, expanding empire, shifting practices, and crumbling credibility of LDS scriptures. A special feature includes links to both the official websites of the various LDS churches, the movement's history, as well as significant, documented evidence of its missteps. Of special note is the clear evidence that the Book of Abraham is a fraud, including original photos from London's British Museum. 40 pages. 874 kb.
How do we deliver our e-books? As soon as your payment clears with PayPal, you will receive a link for your Instant Download! Make sure you do the download within 24 hours of when you receive the link. By downloading, you are agreeing not to share your copy with anyone. At these prices, they can buy their own! Because all of our ebooks are in Adobe Acrobat format, you will need the Acrobat Reader, available free from Adobe.