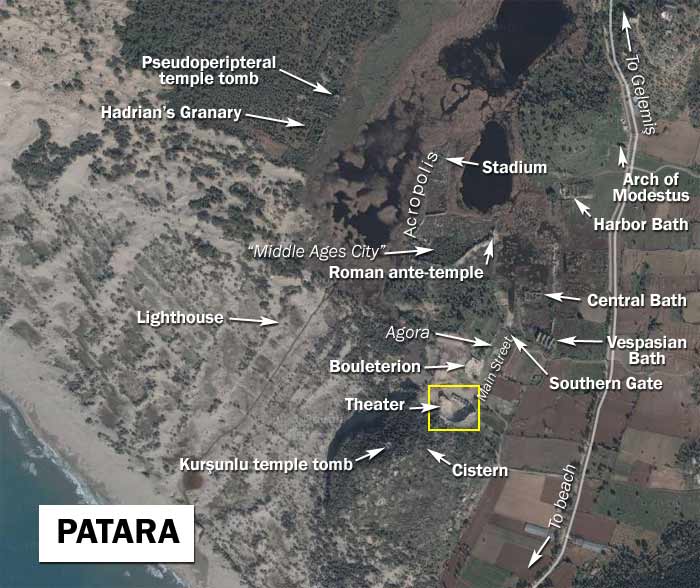 Click within yellow lines for plan of theater.
Show ancient waterline
Patara theater plan
Zoom out to Asia Minor
Zoom way out to "Lands of the Eastern Mediterranean"
Patara was a prosperous harbor town that Paul visited near the end of his Third Missionary Journey (Acts 21:1). It was one of the six leading cities of Lycia and boasted a temple to Apollo whose oracle was second only to that of Delphi. Like several other ancient coastal cities, however, Patara's harbor filled in with silt over the centuries, and the city ceased to be important after the seventh century CE. The ancient harbor is now a swamp; see "View with ancient waterline
" to gain an idea of what it looked like in ancient times.
The main features that remain include the theater, the bouleterion, the three-arched Modestus Gate, and several baths. Scattered throughout the site and especially following the ancient waterline and into the hills surrounding the modern village of Gelemis are numerous ancient tombs. Patara's later claim to fame was as the birthplace of St. Nicholas, the fourth-century CE historical person behind Santa Claus.
Today the ruins are part of a national park and adjacent to one of the finest beaches in Turkey 20 km. (12 mi.) long.
Want to go deeper?
The following are recommended to help you look deeper into the history and archaeology of Patara.
Recommended for purchase:
Claude E. Fant & Mitchell G. Reddish – A Guide to Biblical Sites in Greece and Turkey (Oxford, 2003). – Nearly two-thirds of the New Testament, including all the letters of Paul, most of Acts, and the Book of Revelation, are set in either Turkey or Greece. This book serves as a historical, biblical, and archaeological guide to most of these biblical sites. View excerpt
Ekrem Akurgal – Ancient Civilizations and Ruins of Turkey: From Prehistoric Times Until the End of the Roman Empire (Haset Kirabevi, 1985). | cheaper, earlier edition – Akurgal was a major Turkish archaeologist.
Fahri Isiki – Patara: History and Ruins of the Capital City of Lycian League (Hizmetleri, 2000). – Written by the Turkish archaeologist in charge of excavating Patara.
Online resources:
Christine Eslik, PhD – Recent and current excavations at Patara
Pat Yale, et al. – "Patara" (from Turkey by Lonely Plantet
Roberto Piperno – "Patara" – Excellent photos and descriptions of the ruins.
Lycian Turkey "Patara" | "Kursunlutepe, Patara" – detail pages feature photos of all of the major ruins of Patara.
Dick Osseman's photo gallery of Pergamum – Photos of Patara ruins – link is to first photo in gallery series.
Burak Sansal. [Introduction to] Patara – Sansal is a Turkish professional tour guide.