Unfortunately, many Christians have only a slight knowledge of the Old Testament. The Bible is the "sword of the Spirit," but not knowing the Old Testament is like trying to fight with a double-edged sword when only one edge is sharp. These commentaries will help you to fill in the gaps of what you don't know, deepen the understanding that you have already, and help to correct what you have learned erroneously. As with any book by uninspired authors, you have to be critical and think through what is being presented. Do not swallow anything the authors say without listening to their arguments and measuring them by what you already know for sure. I have added notes here and there to help you along in your decision-making process. They are all in this same navy-blue color, in bold, and signed. —Steve
Commentaries on the entire Old Testament
One-volume commentaries on the entire Old Testament
The IVP Bible Background Commentary: Old Testament
By John Walton / Inter-varsity Press



The narratives, genealogies, laws, poetry, proverbs and prophecies of the Old Testament are deeply rooted in history. Archaeologists, historians, and social scientists have greatly advanced our knowledge of the ancient world of the Bible. This unique commentary joins The IVP Bible Background Commentary New Testament in giving historical, social, and cultural background for each Old Testament passage. From Genesis through Malachi it gathers and condenses an abundance of specialized knowledge and makes it available to ordinary readers of the Old Testament.
How can we account for the "Book of the Law" suddenly being discovered during Josiah's renovation of the temple (2 Chronicles 34:14)? We know from Egypt and Mesopotamia that it was common to seal important documents, including theological documents, in the masonry or foundations of a palace or temple in order to inform a future king who might undertake restoration of the building.
What might the psalmist have had in mind when praising God for removing our transgressions "as far as the east is from the west" (Psalms 103:12)? In an Egyptian hymn to Amun-Re, the deity is praised for his judgment of the guilty. As a result of the God's discernment, the guilty are assigned to the east and the righteous to the west.
Written in a clear, non-technical language, this invaluable aid includes a glossary of historical terms, ancient peoples, texts, and inscriptions; maps and charts of important historical resources; expanded explanations of significant background 

issues; introductory essays on the background of each book.
This book is on my "buy ASAP" list. I so much enjoy the New Testament volume that I anticipate this will be as helpful for the Old Testament. The two big advantages of this tool is how up to date it is, and that it is in book-chapter-and-verse order, which means it is immediately relevant to the text you are studying. —Steve

Pocket Bible Old Testament Commentary
By Warren Wiersbe / Thomas Nelson / W
Acclaimed Bible teacher Warren Wiersbe takes you through the Old Testament.
Comprehensive chapter-by-chapter commentary
Compact
Easy-to-use
Convenient, pocket-size format
Take it anywhere
User-friendly style
Simple easy-to-read format
The Literary Structure of the Old Testament: A Commentary on Genesis-Malachi
By David A. Dorsey / Baker

This book is a guide to help us see the literary structure that permeates the Old Testament and clarifies the meaning of each Old Testament book. It opens with a brief historical survey of the various approaches to understanding the structure of the Old Testament and then examines what is meant by the term literary structure the author gives examples of how the structure of a given text illuminates the author's writing, meaning, and purpose. Dorsey then proceeds book-by-book through the entire Old Testament identifying the structure and offering commentary as to how that structure clarifies the meaning of the text. He illuminates the big picture of each book, providing a framework for further study. No pastor, teacher, or student should embark 

upon the study of an Old Testament text without consulting this indispensable guide.
A study of the literary structure should be one of the fundamental analyses we do when studying the text of Scripture. Unfortunately, however, this aspect has been sorely neglected. Literary analysis does not necessarily imply a liberal theological stance. It just rightly assumes that the human authors were intentional in the way they put each biblical book together. Part of our job as exegetes is to perceive the structure they built into the text and let it serve as a guide toward understanding the internal context. I plan to get this book ASAP. —Steve
The Expositor's Bible Commentary-Abridged Volume 1: Old Testament
By Kenneth Barker / Zondervan Corp.



If your Bible study needs call for more than a brief one-volume commentary but less than a large, expensive set, The Expositor's Bible Commentary – Abridged Edition is just what you need. An abridgment of the critically acclaimed Expositor's Bible Commentary, this Gold Medallion Award-winning resource gives you in two volumes all the essential information and practical insights of the original twelve-volume set while trimming off cumbersome technical details. For scholarliness, usefulness, convenience, and excellence in design, The Expositor's Bible Commentary-Abridged Edition shines. It is one member of your core reference library that you'll reach for often for the depth it brings to your Bible study. Formerly titled Zondervan NIV Bible

Commentary.

Unger's Commentary on the Old Testament
By Merrill F. Unger / Amg Publishers
Known for his many reference works, Merrill Unger had a passion for teaching and explaining the Scriptures–and a mastery of the Hebrew text. Here he is at his best, offering extensive outlines and detailed introductions of each book of the Old Testament, and section-by-section commentary that clarifies the meaning of God's Word in simple terms. 

2112 pages, hardcover from AMG. [TOP]
Multi-volume commentaries on the entire Old Testament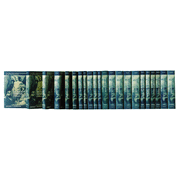 The New International Commentary on the Old Testament, 22 Volumes
By Edited by Robert L. Hubbard, Jr. / Wm. B. Eerdmans Publishing Co.
Please Note: Since this series is not complete, the price for the entire series does not include projected volumes or books listed as "not yet in print."
For those many modern readers who find the Old Testament to be strange and foreign soil, the NICOT series serves as an authoritative guide bridging the cultural gap between today's world and the world of ancient Israel. Each NICOT volume aims to help us hear God's word as clearly as possible.
The contributors apply their proven scholarly expertise and wide experience as teachers to illumine understanding of the Old Testament and present the results of the best recent research in an interesting manner.
Each commentary opens with an introduction to the biblical book, looking especially at questions concerning its background, authorship, date, purpose, structure, and theology. A select bibliography also points readers to resources for their own study. The author's own translation from the original Hebrew forms the basis of the commentary proper. Verse-by-verse comments nicely balance in-depth discussions of technical matters—textual criticism, critical problems, and so on—with exposition of the biblical writer's theology and its implications for the life of faith today. A scholarly series.
Interpretation Commentary of the Old Testament 26-vol Set
By James L. Mays & Patrick D. Miller, eds. / Westminster / John Knox



Planned and written specifically for teaching and preaching, this popular and newly revised commentary series interprets the scriptural text with historical scholarship and theological insight. Exegetical notes and hermeneutical reflections are integrated into expository essays on Old Testament textual passages, clarifying the sense of their language within their literary/historical backgrounds. 26 volumes,

hardcovers from Westminster/John Knox.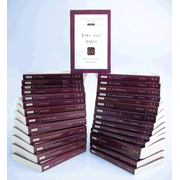 Tyndale Old Testament Commentaries, 28 Volumes
By Donald Wiseman, General Editor / Inter-varsity Press
Now complete—and repackaged! Each volume of the TOTCincludes introductory material that briefly considers background questions, while succinct passage-by-passage exposition explains and explores the text's meaning without entangling you in technical, theological, or grammatical controversies. Ideal for pastors, Bible students, teachers, and anybody who needs a reliable commentary in plain English. 28 softcovers, from InterVarsity.
Keil & Delitzsch Commentary on the Old Testament, 10 Volumes: Updated Edition with CD/ROM
By C.F. Keil / Hendrickson Publishers



Hendrickson's reprint of the English language version of Keil & Delitzsch's classic commentary on the entire Old Testament, first published in 1866. While the content is unchanged, its format has been updated, and some errors from the original have been corrected.
Formatting and style changes made by Hendrickson:
Proofreading of all Greek and Hebrew words
Modernization of abbreviations
Original Arabic words transliterated into English
Biblical references changed from Roman numerals into Arabic numerals
A custom-designed font that is more readable than the original
Standardized formatting for each volume (the original had different formats in each volume)
Movement of the commentary on Ezra, Nehemiah and Esther from volume three to volume four (to make each volume a more consistent length)
Rewriting of long paragraphs into shorter, more readable ones
Continuous pagination in each volume, with a separate table of contents for each volume
K&D provides an excellent, conservative exposition of the entire Old Testament text. There is probably more depth here than you would ever need, yet it also has practical applications. Of course, a lot has happened since 1866, especially in biblical archaeology. You'll have to look elsewhere for the results of excavations done in the last 14 decades! The CD-ROM should make use of this excellent resource so much the better. It's especially helpful when you want to quote an extensive passage in a sermon or paper. —Steve

The Expositor's Bible Commentary: Old Testament Set, 7 Volumes
By Frank E. Gaebelein / Zondervan Corp.
One of the best Old Testament commentaries available today, The Expositor's Bible Commentary is scholarly, clear, and consistently evangelical. The familiar format features introductions, outlines, and exegetical and textual notes on each book, using the NIV text. Contributors include Walter Kaiser; Donald Madvig; Herbert Wolf; F. B. Huey; Gleason Archer, Jr.; William VanGemeren; Ronald Youngblood; Kenneth Barker; Richard Patterson; and others. Suitable for pastors, students, and laypeople. Seven hardcovers, Zondervan.