Revelation is by far the most difficult to understand book in the New Testament. Unfortunately, no consensus exists about how to interpret it. If we are teachable, we can certainly learn a great deal even from teacher with whom we have significant disagreements. You may want to take a look at my annotated bibliography for the Book of Revelation, in which I have made numerous comments on commentaries stretching back to the 18th century. Here and there among the selections below, in an effort to help you in your selection process, I will be adding comments as I am able. They will all be in this same navy-blue color, and bold. —Steve
Commentaries on Revelation
Overcoming! A Study Guide for the Book of Revelation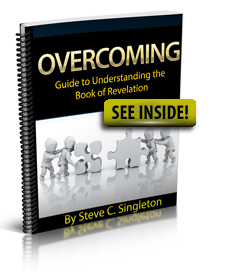 What a Super Deal at $34.95!Revelation! The Apocalypse! Either you love it or you hate it! But do you understand it? And can you explain it to someone else?
This 331-page book by Steve Singleton was 20 years in the making, developed from lectures, seminars, and college courses on the Apocalypse in school, church, and university settings in 11 states, Russia, Mexico, and the Caribbean. It features numerous illustrations and 133 helpful charts! The 79-page introduction explains the interpretation principles vital to understanding the Apocalypse, the backgrounds of Revelation, and the major schools of interpretation with strengths and weaknesses of each! Get the text that has been used successfully at Sunset International Bible Institute, Harding University, and in adult Bible classes and church seminars.
Overcoming: A Study Guide for the Book of Revelation (Digital edition) (2013-01)$19.95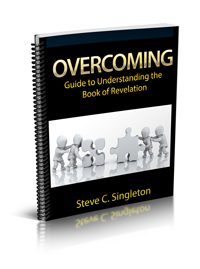 In-depth study guide for the Book of Revelation. Its 306 pages include 83-page introduction, paragraph-by-paragraph discussion of text, chapter overviews, essays on special topics, 133 charts, and 53 additional illustrations. Bonus features include a 29-page discussion of the hermeneutics of the "Left Behind" series and annotated bibliography. This digital version has all of the same pages as the print version, at half the price! 330 pages. 25.4 Mb
How do we deliver our e-books? When your order clears PayPal, you are sent a link for an instant download. All e-books are in Adobe Acrobat PDF format (5.0 or 6.0), and you will need the Acrobat Reader, available free from Acrobat.

Revelation 1-5, Word Biblical CommentaryBy David E. Aune / Thomas Nelson / WA definitive commentary on the first five chapters of the Book of Revelation. Scholars and well-trained pastors will appreciate Aune's extensively annotated translation of the text with his illuminating insights into the variant readings and the nuances of every significant word. Aune is professor of Theology with specialties in New Testament and Christian Origins at Loyola University. He holds degrees from Wheaton Graduate School of Theology and the University of Minnesota. His Ph.D. is from the University of Chicago.


Revelation 6-16, Word Biblical CommentaryBy David E. Aune / Thomas Nelson / WThe Word Biblical Commentary delivers the best in biblical scholarship, from the leading scholars of our day who share a commitment to Scripture as divine revelation. This series emphasizes a thorough analysis of textual, linguistic, structural, and theological evidence. The result is judicious and balanced insight into the meanings of the text in the framework of biblical theology. These widely acclaimed commentaries serve as exceptional resources for the professional theologian and instructor, the seminary or university student, the working minister, and everyone concerned with building theological understanding from a solid base of biblical scholarship.


Revelation 17-22, Word Biblical CommentaryBy David E. Aune / Thomas Nelson / WAune treats chapters 17–22 with painstaking detail, placing the book in its historical, textual, socio-literary, and theological contexts.David E. Aune is professor of Theology with specialties in New Testament and Christian Origins at Loyola University. He holds degrees from Wheaton Graduate School of Theology and the University of Minnesota. His Ph.D. is from the University of Chicago.


The Revelation of Saint John, Black's New Testament CommentaryBy George Bradford Caird / Hendrickson Publishers"Reliable and clear exposition, especially penetrating on the symbolic imagination"—The Bible Book. 288 pages, hardcover.


The Book of Revelation, New International Greek Testament CommentaryBy G.K. Beale / Eerdmans Publishing Co.Accessible and comprehensive, the latest volume of the respected New International Greek Testament Commentary provides an in-depth look at the parallels between images in the Apocalypse and their Old Testament and Jewish antecedents. Beale's painstaking anaylsis will help you better understand the obscure metaphors in Revelation and the purpose of the book itself. 1408 pages, hardcover from Eerdmans.[TOP]


Book of Revelation, New International Commentary on the New Testament, NICNT, RevisedBy Robert H. Mounce / Eerdmans Publishing Co.In this new edition, now based on the text of the NIV and Nestle-Aland, Mounce has revised and expanded his work to reflect more than twenty additional years of mature thought on Revelation and brings his work up to date with the latest scholarship. Engaging various approaches to interpretation common to apocalyptic literature, Mounce steers a middle course believing this to be the way the ancient text spoke to the first-century churches and the way it still speaks to us today.


New International Biblical Commentary (NIBC), RevelationBy Robert W. Wall / Hendrickson PublishersHorsemen, signs, seals, weeks—this new volume in Hendrickson's popular New International Biblical Commentary tackles the New Testament book that puzzles and intrigues laypeople and students alike. Wall takes a sane, common-sense approach to Revelation, explaining both its historical setting and its apocalyptic character. Like other NIBC volumes, this commentary uses the NIV for clarity and accessibility. 320 pages, softcover.


Commentary on RevelationBy E.W. Bullinger / Kregel PublicationsRevelation is one of the most difficult, widely-debated books of the Bible. The late nineteenth and early twentieth century saw a renewed interest in the study of Bible prophecy and especially the book of Revelation. E. W. Bullinger's Commentary on Revelation (first published in 1902 under the title The Apocalypse or, The Day of the Lord), approaches the text of Revelation from a dispensational viewpoint, but seeks to provide a full analysis of the structure and linguistic features of the book. Included are schematic outlines of the text as well as a translation by the author fro the Greek text. Bullinger interacts with issues arising from a comparison of various ancient manuscripts of Revelation in order to provide an understanding of the text that is linguistically, and biblically accurate.

Revelation, NIV Application CommentaryBy Craig S. Keener / Zondervan Corp.End time teaching is abundant and many have differing views. Dr. Keener focuses on the text and its application for the church today as well as what our response to the text should be. He focuses on the ancient rather than modern background and reaffirms the value of previous approaches.The NIV Application Commentary Series helps bring both halves of the interpretive task together. This unique, award-winning series shows readers how to bring an ancient message into our postmodern context. It explains not only what the Bible meant but also how it speaks powerfully today.

Revelation 1-7: An Exegetical CommentaryBy Robert Thomas / Moody PublishersThis volume presents an exegetical analysis of the first seven chapters of the Apocalypse. It reffirms the basic framework of eschatology espoused by ancient Christianity but with added perspective of centuries of doctrinal progress in the Body of Christ.


Revelation 8-22: An Exegetical CommentaryBy Robert Thomas / Moody PublishersThis detailed commentary on the Greek text takes some of the mystery out of the Bible's most confusing book. Here is a strong case of a "premillennial" reading-the same view held by the earliest Christians.[TOP]


Revelation: The New Cambridge Bible CommentaryBy Ben Witherington III / Cambridge University PressBased on the NRSV, this volume inaugurates a splendid new series. Adopting a socio-rhetorical approach, it offers special "Closer Look" sections examining key elements of the Greco-Roman world and "Bridging the Horizons" sections connecting the ancient world to today, plus an annotated bibliography. 280 pages, softcover.


The Revelation to John: A Commentary on the Greek Text of the ApocalypseBy Stephen S. Smalley / Inter-varsity PressFrom an internationally recognized scholar comes a carefully balanced, detailed commentary on the Greek text of Revelation. Emphasizing the historical context of the Johannine community from which it arose, Smalley interprets the Apocalypse as a dramatic portrait of God's loving justice that speaks directly to readers in any age. A masterful analysis for students and scholars alike. 633 pages, hardcover from InterVarsity.


Revelation: Ancient Christian Commentary on ScriptureBy Edited by William C. Weinrich / Inter-varsity PressDrawing heavily upon works by Oecumenius, Andrew of Caesarea, Tyconius, Bede the Venerable, and other patristic writers, Weinrich translates their ancient Greek, Latin, Coptic, and Syriac texts into lucid English; illuminates the consensual exegesis of the early church from the second through the mid-eighth centuries; and discerns the theological interest and pastoral intent of John's visionary letter. 400 pages, hardcover from InterVarsity.


Revelation, Baker Exegetical Commentary on the New TestamentBy Grant R. Osborne / BakerBecause Revelation contains some of the most difficult passages in Scripture, pastors and students will appreciate this accessible addition to the Baker Exegetical Commentary on the New Testament.Reflecting the best in contemporary scholarship, it combines a broad overview with in-depth analysis of figures of speech, Old Testament allusions, the role of prophecy, and the full range of suggested interpretations. 976 pages, hardcover.


Triumph of the Lamb: A Commentary on RevelationBy Dennis E. Johnson / P & R PublisihingThe book of Revelation by its very name, is an unveiling, a vivid disclosure of invisible realities. And yet, confronted with bizarre imagery that is alien to our experience, we are often left asking, "What in the world does this book mean?" In this section-by-section commentary, Dennis E. Johnson deftly guides us through questions about how to interpret Revelation, what kind of literature it is, what it meant to its original audience, and how it equips us today for spiritual warfare. Describing Revelation as "a book of symbols in motion" and "a book permeated by worship," Johnson gives special attention to the Old Testament background of John's pictorial vocabulary and how vision-cycles structure the Apocalypse. He casts light on the historical, religious, and cultural contents of John's first hearers in Asic Minor, a church under attack. The central themes of Revelation emerge to fill out our vision of Christ's triumph over the enemy. [TOP]


Apocalypse: A Commentary on Revelation in Words and ImagesBy Robert Smith / Liturgical PressJohn's striking visions in the book of Revelation have fired the imaginations of countless millions in the past and continue to inspire and even shock readers up to our own generation. This commentary on Revelation is designed for clergy and laypeople serious about understanding Revelation and its significance today. Through the visionary language of John the Seer and the compelling imagery of Albrecht D|rer, Apocalypse captures the majesty and grotesquery of Revelation and strives to center our imaginations not on darkness but on God.


Life Application Bible Commentary: RevelationBy Bruce Barton / Tyndale HouseWritten by the team who designed and wrote the Life Application Bible, this commentary series is factually accurate, theologically sound, and intensely practiced. Every serious student of the Bible wants to understand the text, to discover the biblical principles, and to apply those timeless truths to his or her own life. That's what this commentary delivers! This easy to use Bible commentary has Soecific verses that are easy to spot, Key information is highlighted. Each volume features an interesting and complete introduction, an extensiveand practical commentary, and a helpful reference section. Throughout you will find: Maps, Charts and Diagrams, Classic quotes from noted Christian Thinkers, Illustrations, and Extensive Application Notes. Revelation is a book about the future and about the present. It offers future hope to all believers, especially those who have suffered for their faith.


Revelation: A Bible Commentary for Every DayBy Marcus Maxwell / Random House, IncRevelation was John's message of hope to Christians fighting persecution in the first century A.D. This original theme of encouragement Revelation as a foreboding book of the apocalypse, has been rescued in Marcus Maxwell's commentary – a helpful guide to modern readers searching for a source of spiritual renewal.


Revelation, Holman New Testament Commentary Volume 12By Kendell H. Easley / Broadman / HolmanIf you're studying the book of Revelation, you'll find Kendall Easley's user-friendly commentary the perfect guide. Pastors, teachers, and Sunday school leaders will value it for its historical facts, grammatical notations, discussion questions, quotes from noted writers, verse-by-verse analysis, and easy-to-follow teaching outline. Individual students will enjoy the introductions and overviews of each chapter, practical life applications, and prayers. The 12th volume of The Holman New Testament Commentary, Max Anders, general editor. 400 pages, hardcover, Broadman & Holman.


Revelation, Abingdon New Testament CommentaryBy Leonard Thompson / Abingdon Press"From the Publisher:" Abingdon New Testament Commentary Series Revelation by Leonard Thompson This commentary for students of theology includes introduction, commentary, annotated bibliography, and selective index. The New Revised Standard Version is the principal translation. [TOP]


Revelation, IVP, New Testament CommentaryBy J. Ramsey Michaels / Inter-varsity PressIn this stimulating, pastorally oriented commentary, Michaels strives to recapture Revelation as a prophetic letter of testimony, a testimony as relevant to the church today as it was in John's as the church faces evil and looks for the victory of the Lamb. Readers will find an introduction with background material concerning authorship, date and purpose, as well as a summary of important theological themes. A passage-by-passage exposition following that focuses on what John had to say to his original readers in order to see the relevance of his book for the church today. Based on the NIV, it also includes notes on exegetical issues separated from textual commentary and verse-keyed notes and references.


Revelation, Westminster Bible CommentaryBy Catherine Gonzalez / Westminster / John KnoxFew books of the Bible have had a reversal of fortune like that of Revelation. Written to offer comfort, to aid those trying to understand their faith, and to be read aloud in church, Revelation is viewed by many readers today as shrouded in mystery and rife with elusive symbolism. Yet, as Catherine and Justo Gonzalez point out, we are not as far from the situation about which John writes as we might think. Although we may not face daily challenges of life and death, injustice and idolatry are rampant in our society. And Revelation's dire warnings against those who would rather be comfortable or successful than faithful is of great relevance in our lives today.


Apocalypse: A People's Commentary on the Book of RevelationBy Pablo Richard / Orbis BooksApocalypse first provides a general introduction to the reading of Revelation by examining three keys for its understanding: the historical, the sociological, and the literary-structural. The book then goes on to explore the whole of the Book of Revelation, following the book's own structure. Each section provides a line-by-line reading of the text, establishing the literal meaning before applying the interpretive keys already established.


Revelation 1-11, MacArthur New Testament CommentaryBy John MacArthur / Moody PublishersOne of Scripture's more "mysterious" books is clearly explained by one of our foremost Bible teachers. Dispensational in his approach, John MacArthur gives you a verse-by-verse commentary on the first 11 chapters of Revelation, removing the shroud of obscurity to reveal theactual events of the future. A faith-affirming reference! Approx. 300 pages, hardcover from Moody.

New Collegeville Bible Commentary #12: The Book of RevelationBy Catherine A. Cory / Liturgical Press[TOP]