(Showing ancient shoreline)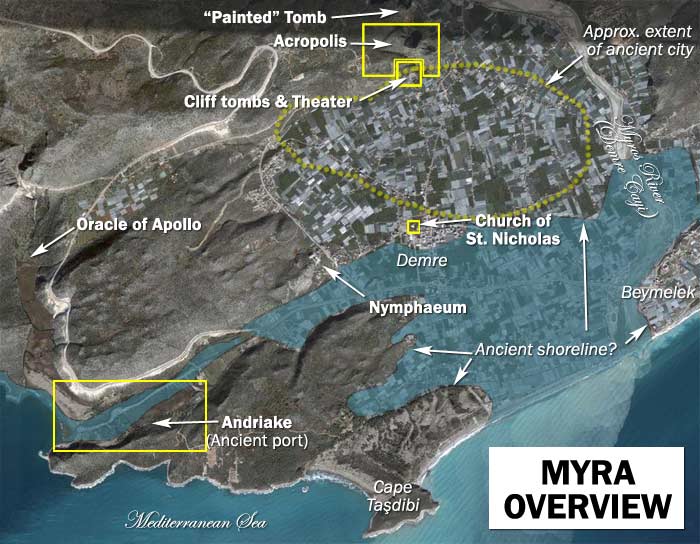 Like many other cities of Turkey, Myra's topography has changed radically over the centuries, mainly due to the extensive silting that has taken place. The Myros River, now called Demre Cayi, has washed down tons and tons of silt from the upper country, and the silt has filled in the bay that once washed the shores of the ancient city. Silt deposits have also connected the island on which Andriakē, the port of Myra, stood. Following a devastating flood in the mid-13th century, Myra apparently was abandoned.
Want to go deeper?
The following are recommended to help you look deeper into the history and archaeology of Myra.
Recommended for purchase:
Claude E. Fant & Mitchell G. Reddish – A Guide to Biblical Sites in Greece and Turkey (Oxford, 2003). – Nearly two-thirds of the New Testament, including all the letters of Paul, most of Acts, and the Book of Revelation, are set in either Turkey or Greece. This book serves as a historical, biblical, and archaeological guide to most of these biblical sites. View excerpt
George Bean – Lycian Turkey Classic Guides to Turkey (London: John Murray, 1989).
Frank Sear – Roman Theatres: An Architectural Study. (Oxford, 2006). – Sear discusses Myra's theater and includes a plan (Plan 389, Pl. 128).on p. 370.
Ekrem Akurgal – Ancient Civilizations and Ruins of Turkey: From Prehistoric Times Until the End of the Roman Empire (Haset Kirabevi, 1985). | cheaper, earlier edition – Akurgal was the archaeologist in charge of the excavation of the original Smyrna at Bayrakli.
Online resources:
Christine Eslik, PhD – Recent & current excavations at St. Nicholas Church and Andriakē
ANMED – Excavations at St. Nicholas Church – Frescoes (ANMED issue 2004-02). | Excavations at Church of St. Nicholas in Myra-Demre" (ANMED issue 2006-04). | Surveys in Andriake in 2005" (ANMED issue 2006-15).
Patty & Kemal Safyurek – Myra. See also their related site on Lycia, which is one of the most thorough and helpful available, including Lycian history, archaeology, photos, and much more.
Charles Fellows – An Account of Discoveries in Lycia (London: John Murray, 1840). Discusses Myra on pp. 196ff.
Lynn Levine – "Demre" in Frommer's Turkey 4th ed. (Hoboken, NJ: John Wiley& Sons, 2006). 298-302 (299-301 unavailable online).
Luc Wouters – Photos of Myra.
Virtual tour (360° photos) – Frontal view of theater | View from orchestra | View from near top | Cliff tombs behind theater | Sarcophagus of St. Nicholas
Andrys Basten – St. Nicholas Church (photo gallery) | 360-degree view of courtyard } 360 degree view of Sarcophagus of St. Nicholas
Burak Sansal – Demre & Myra | St. Nicholas of Myra | Lycia and the Lycians – Sansal is a Turkish professional tour guide.