by Steve Singleton
(2002-01) $1.00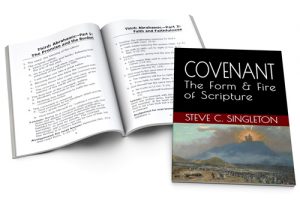 Here is a careful study of the seven covenants of the Bible: Adamic, Noahic, Abrahamic, Mosaic, Levitical, Davidic, and the New Covenant (Christ's). Presented in extended outline form in 25 lessons, this e-book provides you with all of the biblical references you need to make a thorough study of the covenants of the Bible, which furnishes Holy Scripture with both its form and its fire.
Learn how the biblical covenants parallel extra-biblical covenants like the Hittite suzerain-vassal treaties. Discover how the prophets used covenant lawsuits to call their people back to God. Explore how the covenant became distorted and the way in which Christ called people back to the true meaning of the Law. Examine the relationship between the Old (Mosaic) and the New (Christ's) covenants and review the covenant stipulations under Christ.
So much of the Bible is covered in this study that you can use it as an introduction to the Bible as a whole! An excellent list of recommended books for further study close out this valuable study. 62 pages. 627 Kb.
How do we deliver our e-books? As soon as your payment clears with PayPal, you will receive a link for your Instant Download! Make sure you do the download within 24 hours of when you receive the link. By downloading, you are agreeing not to share your copy with anyone. At these prices, they can buy their own! Because all of our ebooks are in Adobe Acrobat format, you will need the Acrobat Reader, available free from Adobe.