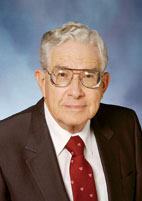 A 1953 graduate of Abilene Christian, Everett Ferguson (1933- ) earned a Ph.D. from Harvard University in 1959. He joined the Abilene Christian faculty in 1962. He is recognized as an authority on church history throughout the scholarly world, with a special emphasis on the ante-Nicene church.
In the preface to a festschrift presented to him on his 65th birthday, Yale Divinity School professor emeritus Abraham Malherbe wrote, "Everett Ferguson's unassuming manner has not prevented him from making extraordinary contributions to scholarship. His enormous capacity to amass prodigious amounts of information, his great powers of concentration, and his well-honed intellect have combined to make him a person of great erudition. They have also resulted in scholarship that is commonsensical and trustworthy."
Although Ferguson retired from full-time teaching in 1990 to devote himself to research, he continued teaching occasionally until 2007-08. Ferguson has been an elder of the Hillcrest Church of Christ for many years. He lectures on patristics, church history, and ecclesiology throughout the world.
Church History, Vol. 1 Pack (textbook and video lectures) (2016)
Church History, Volume One Video Lectures: From Christ to the Pre-Reformation (2016)
The Rule of Faith: A Guide (2015)
Baptism in the Early Church: History, Theology, and Liturgy in the First Five Centuries (2013)
Church History Vol. 1: From Christ to Pre-Reformation (2013)
Church History, Volume One: From Christ to Pre-Reformation – The Rise and Growth of the Church in Its Cultural, Intellectual, and Political Context (2004)

Backgrounds of Early Christianity (3rd ed., 2003) | Book Review
Early Christians Speak: Faith and Life in the First Three Centuries, Vol. 2 (2002)
Early Christians Speak: Faith and Life in the First Three Centuries, Vol. 1 (1997)
The Church of Christ: A Biblical Ecclesiology for Today (1996)
Gregory of Nyssa: The Life of Moses (with Abraham Malherbe and John Meyendorff, Classics of Western Spirituality, 1978)
NEW OR USED FROM AMAZON:
The New Testament Church (2016)
The Early Church and Today, vol. 1 – co-author: Leonard Allen (2012)
Thinking-Living-Dying: Early Apologists Speak to the 21st Century (2011)
Church History (2005)
Inheriting Wisdom: Readings for Today from Ancient Christian Writers (2004)
Women in the Church (2003)
Early Christians Speak (3rd ed., 1999)
Editor: Doctrinal Diversity: Varieties of Early Christianity – Recent Studies in Early Christianity (1999)
Editor: Forms of Devotion: Conversion, Worship, Spirituality, and Asceticism – Recent Studies in Early Christianity (1999)
Editor: History, Hope, Human Language, and Christian Reality – Recent Studies in Early Christianity (1999)
Editor: Norms of Faith and Life – Recent Studies in Early Christianity (1999)
Editor: Church, Ministry, and Organization in the Early Church Era (Studies in Early Christianity, vol. 13, 1993)
Editor: Acts of Piety in the Early Church – Studies in Early Christianity, vol. 17 (1993)
Personalities of the Early Church (1993)
Missions and Regional Characteristics of the Early Church (Studies in Early Christianity, vol. 12, 1993)
Editor: Encyclopedia of Early Christianity – Garland Reference Library of the Humanities, vol. 846 (1992)
The everlasting kingdom: The kingdom of God in scripture and in our lives – Way of Life Series (1989)
A Capella Music in the Public Worship of the Church (1988)
Acts of Apostles: The Message of the New Testament – Way of Life Series (1986)
Demonology of the Early Christian World – Symposium Series, vol. 12 (1985)
Church history: Early and medieval – Way of Life Series, 2nd ed. (1985)
Message of the New Testament: The Letters of John – Way of Life Series (1984)
The New Testament church – Way of Life Series (1968)
Church History Reformation and Modern (1967) [TOP]
RETURN TO FAVORITE AUTHORS