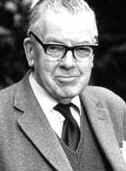 Frederick Fyvie Bruce (1910–1990) was a Bible scholar, and one of the founders of the modern evangelical understanding of the Bible. His work, New Testament Documents: Are They Reliable? (read online free) is considered a classic in the discipline of Christian apologetics. Bruce was a dedicated member of the Open Plymouth Brethren, though he did not subscribe to the dispensationalism usually associated with that movement.
Bruce was educated at the University of Aberdeen, Cambridge University, and the University of Vienna. After teaching Greek at the University of Edinburgh and the University of Leeds, he came to the University of Sheffield in 1947, heading the Department of Biblical History and Literature. In 1959 he moved to the University of Manchester where he taught as Professor of Biblical Criticism and Exegesis until his retirement in 1978.
Bruce wrote thirty-three books and served as editor of The Evangelical Quarterly and The Palestine Exploration Quarterly. He was a distinguished scholar on the life and ministry of Paul the Apostle, and wrote several studies, the best known of which is Paul: Apostle of the Heart Set Free. His Greek commentary on Acts is still regarded as one of the best on that book, and his other commentaries are of consistently high quality, especially his Greek commentary on Galatians.
Bruce viewed the New Testament as historically reliable and insisted that the truth claims of Christianity hinged on its being so. To Bruce this did not mean that the Bible was always precise, and this lack of precision could lead to considerable confusion. However, he believed that the ambiguous passages were ones that had no substantial bearing on Christian theology and thinking. –Condensed from Wikipedia
COMMENTARIES:
Zondervan Bible Commentary
(one-volume illustrated edition, 2007)
The Gospel of John
(1989)
The Book of Acts
(New International Commentary on the New Testament, revised ed., 1988)
New International Bible Commentary
(based on NIV, 1986)
Colossians, Philemon, Ephesians
(New International Commentary on the New Testament, 1984)
1 & 2 Thessalonians
(Word Biblical Commentary, vol. 45, 1982)
The Epistle to the Galatians
(New International Greek Testament Commentary, 1982)
OTHER BOOKS:
The New Testament Documents: Are They Reliable?
Illustrated Bible Atlas
Israel & The Nations: The History of Israel from the Exodus to the Fall of the Second Temple
(1998)
The Canon of Scripture
(1988)
Jesus: Lord and Saviour
(1986)
The Hard Sayings of Jesus
(1983)
Paul: Apostle of the Heart Set Free
(1977)
New Testament History
(1973)
Message of the New Testament
(1972)
Bible History Atlas
(study edition)
NEW OR USED FROM AMAZON:
Romans
(Tyndale New Testament Commentary, 2008)
Philippians
(New International Biblical Commentary, 1995) |
paperback edition
Hebrews
(Revised ed., 2012)
The Gospel & Epistles of John
(2 vols. in one, 1983)
Men & Movements in the Primitive Church
(2006)
Tradition: Old and New
(reprint, 2006)
In the Steps of Our Lord
(1997)
Second Thoughts on the Dead Sea Scrolls
(reprint, 2006)
The Pauline Circle
(2006)
The Spreading Flame: The Rise and Progress of Christianity from Its First Beginnings to the Conversion of the English
(2004)
New Testament Development of Old Testament Themes
(2004)
Origin of the Bible
(1992)
History of the Bible in English
(2002)
Jesus Past, Present, & Future: The Work of Christ
(1998)
The Time Is Fulfilled: Five Aspects of the Fulfillment of the Old Testament in the New
(The 1977 Moore College Lectures, 1995)
Peter, Stephen, James and John: Studies in Early Non-Pauline Christianity
(1994)
A Mind for What Matters: Collected Essays of F.F. Bruce
(1990)
The Acts of the Apostles: The Greek Text With Introduction and Commentary
(1990)
The Books and the Parchments: How We Got Our English Bible
(1984)
Abraham and David: Places They Knew
(1984)
Jesus and Paul: Places They Knew
(1983)
The Defence of the Gospel in the New Testament
(1981)
I Want to Know What the Bible Says About the Work of Jesus
(1979)
Jesus and Christian Origins Outside the New Testament
(1974)
The English Bible: A History of Translations from the Earliest English Versions to the New English Bible
(1970)
Biblical Exegesis in the Qumran Texts
(1960)
The Dawn of Christianity
(Second Thoughts Library, no. 5, 1950)
[TOP]