In-Depth Analysis of the Biblical Testimony
(digital edition: 2008-03) $3.95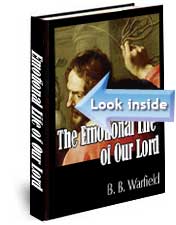 Was the historical Jesus subject to the emotions of the rest of humanity, or did His deity permit Him to remain aloof and unaffected? Here is the classic presentation of the evidence from the four gospel accounts by Benjamin B. Warfield, well known for both his conservative viewpoint and for his careful scholarship.
In passage after passage, Warfield provides a detailed analysis of the terms used to describe Jesus' compassion, pity, love, anger, joy, and other emotions, setting aside the erroneous views of those who would remove Jesus from all contact with human emotions and from those who would depict Jesus as dominated by his own passionate temperament. Taking seriously the testimony of Scripture, Warfield forces us to come to terms with the real Jesus, who fully shared in the positive and negative emotions with the rest of humanity, and yet never lost His self control or His connection with the Father. The study reaches its climax in the emotional intensities of the Garden of Gethsemane and the Hill of Golgotha.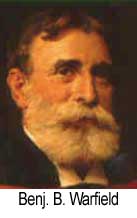 Dr. Benjamin Breckenridge Warfield was professor of systematic theology at Princeton Theological Seminary from 1886 until his death in 1921. This article was originally published in Biblical and Theological Studies, by the Faculty of Princeton Theological Seminary (Charles Scribner's Sons, 1912), pp. 36-90, and reprinted in The Person and Work of Christ, pp. 93-145, which itself has been reprinted many times, including P&R Publishing (Phillipsburg, NJ, from 1950).
You cannot find a more thorough, in-depth discussion of this vital topic, making a significant contribution to Christology regarding the humanity of Jesus Christ. I have designed this digital edition for online reading. I have carefully transliterated all of the Greek terms for ease of use by the non-expert. I have compared the text with the original, first published in 1912, even correcting a couple of mistakes that appeared in the original publication.
80 pages, including 128 footnotes. 681kb



How do we deliver our e-books?  As soon as your payment clears with PayPal, you will receive a link for your Instant Download! Make sure you do the download within 24 hours of when you receive the link. By downloading, you are agreeing not to share your copy with anyone. At these prices, they can buy their own! Because this ebook is in Adobe Acrobat format, you will need the Acrobat Reader, available free from Adobe.